PCC to VCC:FAVOURING THE EASE OF DOING FUNDS IN MAURITIUS in 2022
PCC to VCC:FAVOURING THE EASE OF DOING FUNDS IN MAURITIUS in 2022
Fund incorporation and administration are an important component of global business activities in Mauritius. They have fuelled the overall financial services system of countries like Luxembourg, Netherlands, Ireland, Singapore and Mauritius amongst others. Through decades, fund structures have changed thereby adapting to the various legal frameworks of countries, essentially to increase the marketability of these funds in different jurisdictions as well as crafting tax efficient special purpose vehicles for the benefit of shareholders and the community of investors at large.
Mauritius positioned itself as a preferred jurisdiction for the region. As a matter of fact, established funds in Mauritius crossing the mark of one thousand is considered a well-crafted mature plan for the financial sector of the country and thus to keep a competitive edge with other jurisdictions, Mauritius released in October 2021, a draft version of the VCC Bill which intended to garner interest from stakeholders. The Variable Capital Companies Act 2022 ("The Act") was passed in the National Assembly on 15 April 2022 and will come into effect after proclamation.
The VCC shares similarities with Protected Cell Companies ("PCC") that are established under the Protected Cell Companies Act 1999 and subsequent regulations ("the PCC Act") with added flexibilities. The PCC came as a bridge to close certain gaps in the fund management industry, intuitively targeted but certainly not enough to address the peculiarities of a changing landscape of investment strategies and risk profiles. Though the PCCs had different cells but they were not legal entities. By contrast, the VCC can be made up of several single legal entities, namely sub-funds or SPVs having segregated assets and liabilities, having their own board of directors with improved governance. However, one of the main differences is the allowed activities under the PCC is more extensive than the VCC which shall primarily allow CIS to operate as an umbrella.
The guidelines and regulations for the implementation of this Act are yet to be provided by the Mauritian regulator, the Financial Services Commission (FSC). Once they will be available, we will release any further document related to this VCC Act in order to bring clarity.
Hereunder is a brief of the ecosystem of the Variable Capital Companies Act 2022.
THE ECOSYSTEM OF THE VARIABLE CAPITAL COMPANIES (VCC)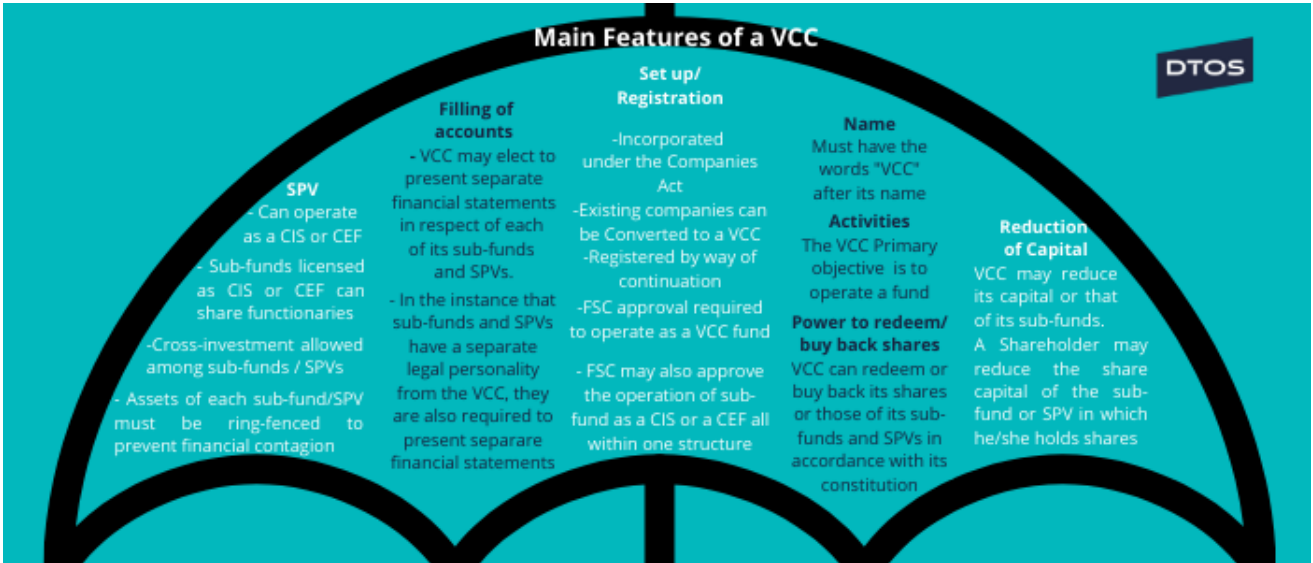 DTOS is a proudly independent Management Company founded in 1993. We capitalise on our strategic location in Mauritius and take pride in our heritage. Whether you are a corporation or an individual, our specialists provide tailor-made solutions to ensure you are always prepared for the journey ahead. We always put clients' first, safeguard their assets and help them navigate each regulatory landscape while striving to exceed expectations. Nurtured in the highest ethical standards, our people thrive to protect and manage your business with exemplary professionalism.
Contribution: Chaya Subramanien and Surya P. Foollee
Date of publication: 19 May 2022